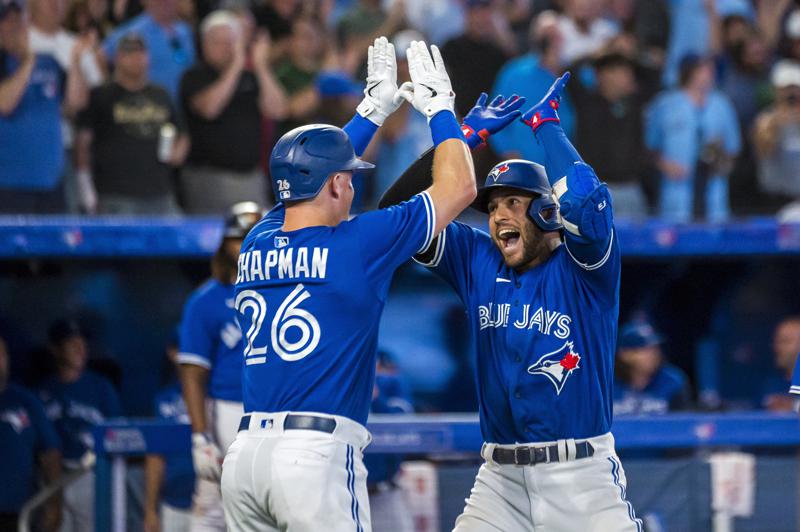 Toronto Blue Jays' George Springer (4) celebrates with Matt Chapman (26) after hitting a grand slam during the sixth inning of a baseball game against the St. Louis Cardinals, Tuesday, July 26, 2022 in Toronto. (Christopher Katsarov/The Canadian Press via AP)
TORONTO (AP) — George Springer hit his seventh career grand slam, Vladimir Guerrero Jr. had a two-run drive and the Toronto Blue Jays extended their winning streak to seven by beating the short-handed St. Louis Cardinals 10-3 Tuesday night.
Alejandro Kirk added his 12th homer and Matt Chapman had two hits, including the tiebreaking single in a five-run sixth as Toronto improved to 8-1 under manager John Schneider.
Dylan Carlson hit a solo home run as St. Louis played the first of two games in Canada without unvaccinated sluggers Paul Goldschmidt and Nolan Arenado. The two biggest bats in the Cardinals lineup were placed on the restricted list before the game, along with catcher Austin Romine.
Foreign nationals who aren't vaccinated against COVID-19 are not allowed to enter Canada, save for limited exceptions that require a 14-day quarantine. Unvaccinated baseball players are placed on the restricted list, where they are not paid and do not accrue major league service time.
Tim Mayza (5-0) got one out for the win. Jordan Hicks (2-5) was charged with the loss.